Pastoral support is at the heart of everything we do at Watling Academy.  It is all about getting to know and understand the needs of every student – no student at Watling is anonymous!
Support for students will be provided by Form Tutors, our Special Educational Needs and Disabilities team, Heads and Assistant Heads of Year, Teaching Assistants, Inclusion Assistants and Pastoral and Learning Mentors, as well of course, by all teaching staff. Some students may also receive support from professionals from outside the Academy community and we facilitate this support as far as possible.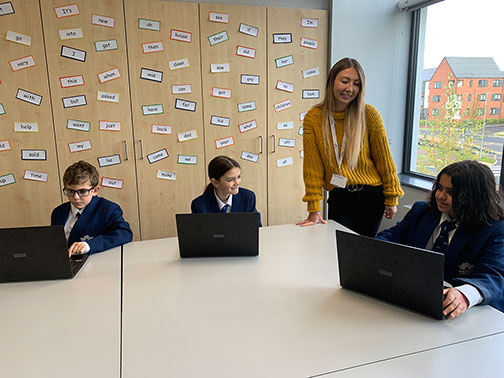 The first person your son or daughter meets in the morning will be their Form Tutor, and in many ways, they will be the student's most important teacher whilst they are at the Academy. The Form Tutor not only leads tutorial sessions but monitors all aspects of school life, providing consistent support all week including the celebrations of success and outstanding contributions. The well being of students is monitored and supported by the Form Tutor. To ensure that the Form Tutor has a comprehensive overview of their students we encourage all parental contact to go through them in the first instance.
Overseeing the team of Form Tutors is the Head of Year, who also oversees student well-being, behaviour and attendance. The HoY works closely with Form Tutors and Parents to support students throughout their time at Watling Academy.
Every student is assigned to a House. Students gain House Points as part of our rewards policy and these will be totalled up at the end of the year, with a House cup going to the House with the most points.
Students gain house points for completing work to a high standard or by going 'above and beyond' in displaying the Watling Academy core values of Respect, Responsibility and Kindness. House points can also be won through participating and succeeding in house challenges and competitions. Congratulations go out to joint winners; Marshall and Rutherford for winning the inaugural House launch day event.
All students and members of staff are allocated to one of our five houses-
Laine (Dame Cleo Laine – co-founder of the Stables Music Venue)
Leyh (Liz Leyh – sculptured the iconic Milton Keynes concrete cows)
Marshall (Jim Marshall – pioneer of guitar amplification and founder of Marshall Amplification)
Rutherford (Greg Rutherford – Olympic, World, European and Commonwealth Long Jump Champion)
Turing (Alan Turing – Major contributions to Mathematics, including breaking the Enigma code)
As you may have realised our Houses are named after those who have excelled in their chosen field, whilst having a close relationship to Milton Keynes. It is also worth noting that all the Houses were named by Watling Academy students who entered our House naming competition.
Your son or daughter will be issued with a planner that they will carry in their blazer pocket at all times. This will ensure that vital messages between home and school are communicated and you will also be able to clearly monitor progress with homework tasks against the deadlines determined by our homework timetable.
There has been a lot of recent research about banning mobile phones in school and the research seems to suggest that it has a positive impact on students' attainment. We aim to take the pressure off students at social times, allowing them to talk to and socialise with their peers, giving them a well-earned break from screen time. It is important that you are aware that students will be required to either not bring phones to school or have them switched off and in their bag for the duration of the school day. If phones are switched on or seen during the school day then they will be confiscated. We appreciate and understand it is reassuring that children have a means of communication, particularly if they are travelling to school independently and we want to make sure you can contact your child if needs be. We will deliver any relevant messages to your child during the school day or vice versa, we will contact you if there is an urgent need.