Friends of Watling Academy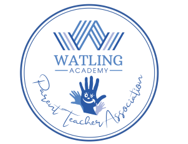 Welcome to Friends of Watling Academy (FoWA). We are a PTA whose objective is to raise funds to support all students at Watling in accessing opportunities to broaden their experiences.
Committee Members
Amanda Coles (Chair)
Jo Cox (Treasurer)
Angela Mcall (Secretary)
Emma Cox (School Leadership Representative)
How to Contact Us
If you would like to join FoWA or attend one of our meetings then please contact us on friendsofwatlingacademy@gmail.com
This account is run by parent volunteers so please allow 5 working days for a response.
FoWA Meetings
All meetings are held at Watling Academy and start at 6:30pm, they are one hour long. Please email us in advance so that we know to expect you.
2021/22 PTA Meeting Dates
Monday 13th September
Monday 8th November
Monday 10th January
Monday 7th March
Monday 25th April
Monday 20th April
Fundraising Plans
Pre-Loved Uniform Shop
We have a drop off point in the reception area at school for parents to donate good quality, used uniform. We plan to run a preloved uniform sale in the future.
Watling Academy Calendar
We are planning to design and sell a Watling Academy academic year wall calendar to support families in getting organised for the year ahead – watch this space!
Cake Sales
At the end of each half term we will be running a cake sale after school.